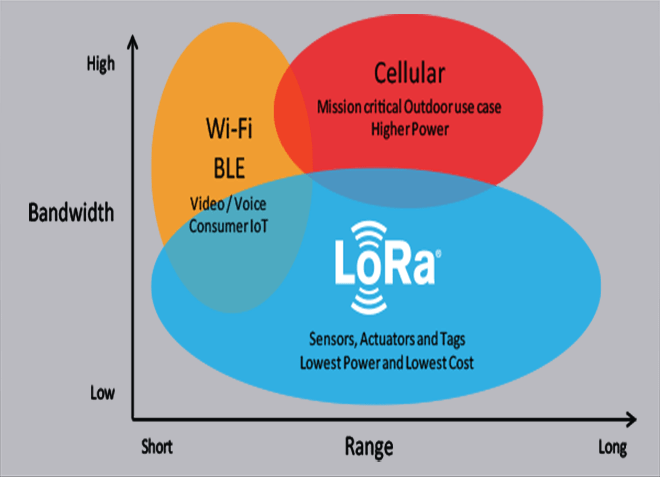 LoRa (Long Range) is a communication system used for sending information for nearly 15 kilometers without the need of any wired connections. One of the major differences in compared to wired communication systems is, LoRa Technology consumes low power though covering long range wide area networks.
Nowadays, the demand and usage of LoRa Technology are witnessing an incredible growth. In particular, for interconnecting devices, sensors in (Internet of Things) IoT devices, assets, consumer IoT, Industrial IoT, and enterprise IoT require this kind of wireless technology to establish an efficient communication each other. Each and every LoRa transmission will carry up to 51 bytes and 222 bytes lower and higher data rates respectively. In general, the data rate peaks at about 50 kbps and a minimum level of 300 bps. Thus, LoRa is the part of IoT as well as networking protocols.
LoRa is also represented as a physical layer protocol or LoRaWAN, a network layer protocol used for establishing a communication amid battery-powered systems. And Thus, this technology is also significant for developing battery-operated sensor products. As of LoRa Alliance, LoRaWAN primarily focuses on fulfilling the key requirements of IoT like providing bi-directional communication with high security, mobility, and localization services.
Generally, the LoRaWAN network protocol was built on the top of the LoRa physical layer protocol. This protocol is primarily used by low-power consumed sensors for providing communication. A LoRaWAN comprises sensors, gateways, networking servers as well as application servers. Each and every component has its own priority and will operate as specified by the LoRa alliance such as,
Sensors - This kind of low-powered or battery-powered sensors usually sends data to applications through LoRa gateways. At present we can observe several kinds of sensor devices are available in the industry for detecting, monitoring, and tracking applications.
Gateway - Generally, gateways accepts the data from the sensors and imparts the information to the network server. The communication amid the gateways and the network server is also enabled over 3G or Ethernet backhaul.
Network Server - Once it receives information from the gateways, the network server performs as the LoRaWAN manager. The network server is responsible for scanning and rejecting redundant data. Data security is also offered by the network server. Finally, unique data will be transferred to the application server.
On the historic front, in 2012, LoRa's physical layer version was acquired by Semtech Corporation from Cycle SAS, a French company. This protocol makes the use of chirp spread spectrum technology to transfer data over 915 (US) or 868 (Europe) MHz bands with alternates 169 and 433 MHz. The other features of LoRa are depicted in the below table:
The Significant Benefits of LoRa Technology:
In comparing with other communication technologies, LoRa offers multiple benefits. Few of the key benefits of LoRa include:
The LoRa physical layer employs ISM bands 868 MHz and 915 MHz frequencies which are free to use anywhere across the globe.
LoRa devices consume extremely low power and is ideal for battery-powered devices.
LoRa can send and receive data for up to 15 km in peripheral areas and 5 km in municipal/urban areas.
Accordingly, the major reason behind the high utilization of LoRa technology is its network capacity. For instance, using a LoRaWAN, a single gateway can communicate and house approximately 1K (1000) sensor devices. And thus, the brand image of this technology has been successfully expanding worldwide.
Conclusion:

Though LoRa is not completely evolved across all industries, it is a recognized standard by telecom and IoT service providers worldwide. LoRa and LoRaWAN protocols have been successfully deployed in over 60 nations globally. Moreover, as LoRa technology is a key communication protocol to IoT network infrastructure, deployments of LoRa by the sensor device manufacturers and services providers is growing steadily.
Thus, it reflects that an initiative towards the increased number of global smart city developments is directly projecting the growth of LoRa industry in the future. According to the research markets, it is anticipated that, with an annual growth rate of over 85%, the technology will be worth approximately USD26.5 billion in the next five years. Hence, LoRa enabled devices including actuators, trackers, sensors, transceivers, wearables, or androids are going to evolve worldwide.